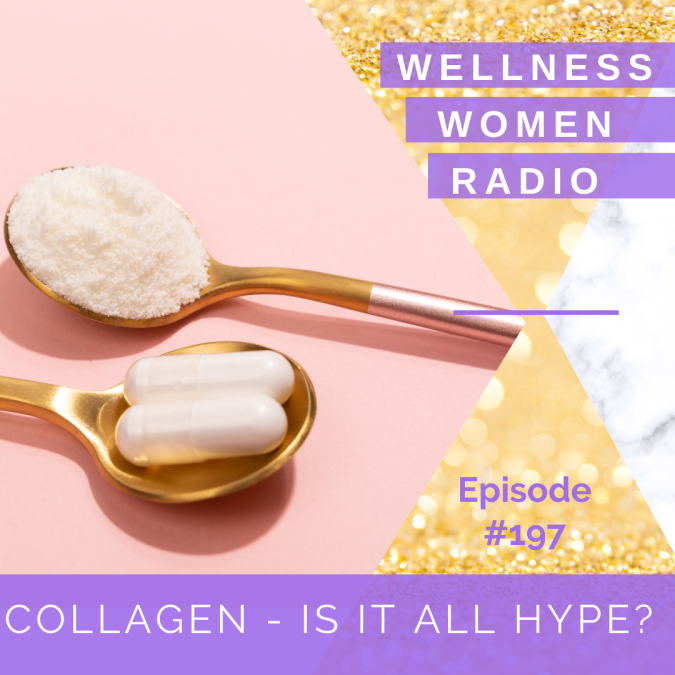 Click Below to Listen Now!
WWR 197: Collagen – Is it all hype?
Episode 197
15, Apr, 2021
33 Minutes
Collagen is one of the most abundant proteins in our body and it forms connective tissue, skin, bones, tendons, and ligaments but collagen is also responsible for our skin elasticity! Our bodies make collagen naturally but it decreases as we age which is why everyone is talking about, taking or applying collagen to their skin but is this all just hype or are there actual benefits to collagen supplementation and can you really absorb it topically, or are collagen creams just clever marketing? In this episode of Wellness Women Radio we take a deep dive into collagen, the different types and what they're responsible for in your body as well as how you can NATURALLY increase your own collagen production!
Don't forget to follow us on social media:
www.facebook.com/thewellnesswomen @thewellnesswomenofficial
www.facebook.com/theperiodwhisperer @drandrea.xo
www.facebook.com/drashleighbond @drashleighbond
Wellness Women Radio is proudly sponsored by Dinner Twist, to get $35 off your first box use code WWR on checkout here: https://www.dinnertwist.com.au
Share This Episode
Share this episode with your family and friends.
About Wellness Women Radio
Wellness Women Radio is brought to you by women's health experts Dr Ashleigh Bond, the pregnancy and birthing guru, and the queen of hormone imbalances - the period whisperer herself, Dr Andrea Huddleston.
Wellness Women Radio Hosts
Recent Wellness Women Radio Episodes