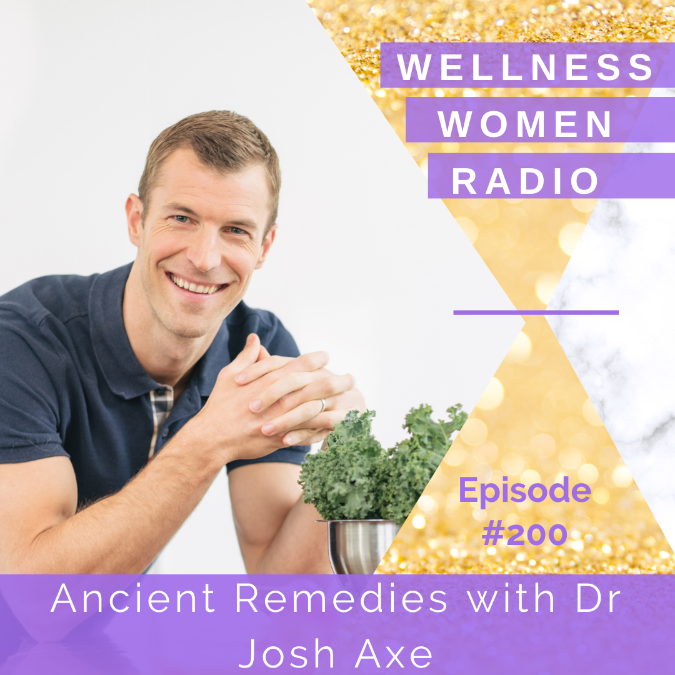 WWR 190: Ancient Remedies with Dr Josh Axe
Episode 190
19, Jan, 2021
41 Minutes
We're welcoming you to 2021 with an interview with one of the greatest minds in health and wellness, Dr Josh Axe! And what an epic interview this is!
Dr Josh Axe is the founder of Ancient Nutrition, DrAxe.com (one of the top natural health websites in the world today), is a certified doctor of natural medicine (DNM), doctor of chiropractic (DC) and clinical nutritionist (CNS) with a passion to help people get healthy by empowering them to use nutrition to fuel their health. He is also the best selling author of Eat Dirt, Keto Diet and Collagen Diet books. Most recently Dr Axe has launched his own podcast, the Dr Axe Show and his new book Ancient Remedies for Modern Life lands in February!
On this episode of Wellness Women Radio, we dive into ancient health principles that are so relevant for today including an ancient remedy approach to thyroid dysfunction as well as other women's health issues. Dr Axe also unpacks what a typical day in his life is and his key morning rituals for optimal health!
To find out more go to: www.draxe.com and you can preorder your own copy of Ancient Remedies for Modern Life here: https://www.bookdepository.com/Ancient-Remedies/9780316496452
Don't forget to follow us on social media:
www.facebook.com/thewellnesswomen       @thewellnesswomenofficial
www.facebook.com/theperiodwhisperer      @drandrea.xo
www.facebook.com/drashleighbond             @drashleighbond
Wellness Women Radio is proudly sponsored by Dinner Twist, to get $35 off your first box use code WWR on checkout here: https://www.dinnertwist.com.au
Share This Episode
Share this episode with your family and friends.
About Wellness Women Radio
For the women with big dreams, who dare to be different, and who want to thrive in health, work and play. Ashleigh Bond and Andrea Huddleston host this informative and entertaining podcast to help you master true health, and create an exceptional life.
Wellness Women Radio Hosts
Recent Wellness Women Radio Episodes