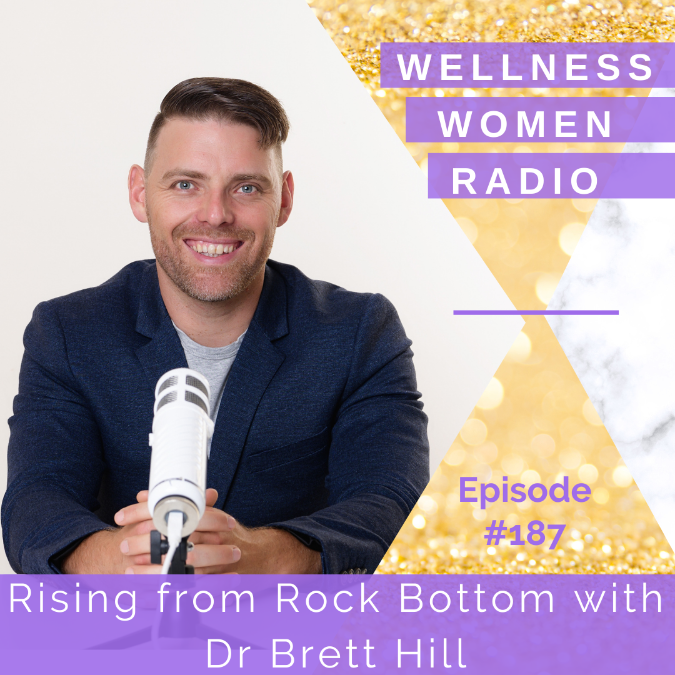 WWR 187: Rising from Rock Bottom with Dr Brett Hill
Episode 187
11, Dec, 2020
44 Minutes
Dr Brett Hill is a wellness expert, host of some of Australia's top rated health podcasts, functional nutrition coach, chiropractor, public speaker, and author of numerous books including; How to Eat an Elephant, The Barefoot Athlete and Nourish Without Nagging. He regularly appears on TV and radio and his media appearances, seminars, coaching and consulting have inspired thousands of people over the last decade to live a long, happy, healthy life full of energy and vitality.
Brett is also a RESILIENCE expert! His new book, Rock Bottom tells a tale of Brett being at the top of his game, he had it all and life couldn't get any better until one night when it all came crashing down. On this episode of Wellness Women Radio Brett walks us through how he went from rock bottom to rebuilding his path and the lessons he learned along the way. To find out more about Dr Brett Hill go here: http://drbretthill.com
Don't forget to follow us on social media:
www.facebook.com/thewellnesswomen       @thewellnesswomenofficial
www.facebook.com/theperiodwhisperer      @drandrea.xo
www.facebook.com/drashleighbond             @drashleighbond
Wellness Women Radio is proudly sponsored by Dinner Twist, to get $35 off your first box use code WWR on checkout here: https://www.dinnertwist.com.au
Share This Episode
Share this episode with your family and friends.
About Wellness Women Radio
For the women with big dreams, who dare to be different, and who want to thrive in health, work and play. Ashleigh Bond and Andrea Huddleston host this informative and entertaining podcast to help you master true health, and create an exceptional life.
Wellness Women Radio Hosts
Recent Wellness Women Radio Episodes