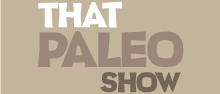 Click Below to Listen Now!
TPS 11: Clean Out The Pantry
It's time to get down to business. Now that you have an idea of what foods to include and what foods to avoid, you have probably discovered that you have a lot of the things in your house taking up space and causing temptation. Today we help give you some pointers on how to clean out the clutter and get yourself a "Paleo Pantry."
Share This Episode
Share this episode with your family and friends.
Dr Brett Hill (Chiropractor) and George Bryant - Civilized Caveman have inspired people all over the world to make drastic changes for the better, in their life and their health. This show will help you get back to basics and redefine the way you eat, think and move in order to maximuse your innate potential.
Recent That Paleo Show Episodes