Inside The Champion's Mind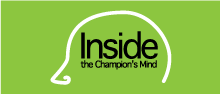 ITCM 16: Carren Smith: Coming back from the dead
If anyone knows how to overcome adversity, it's Carren Smith. How's this for adversity: Carren lost her fiance to suicide, had a miscarriage with their baby soon after his death, then decided to commit suicide herself, only for fate to step in the way (aka Bali Bombing 2002) and show her that wasn't her path (and losing her best friend in the process). There's a whole lot of adversity in there! And Carren has risen out of it so well that she now teaches people the world over how to be the best version's of themselves. This is an interview you do not want to miss!
Share This Episode
Share this episode with your family and friends.
About Inside The Champion's Mind
Inside the Champion's Mind is hosted by Laurence Tham. It is focused on the strategies and tactics to help you becoming the best you can be and become a WORLD CLASS leader in anything you do.
Inside The Champion's Mind Hosts
Recent Inside The Champion's Mind Episodes