Inside The Champion's Mind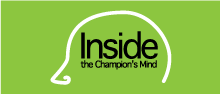 ITCM 12: Keep the momentum moving forward
As we come to the end of the limited series with Dr. Jeff Spencer, we explore what we need to do to keep the momentum moving forward so that you create your life legacy. Dr. Laurence Tham and Dr Jeff Spencer discuss the steps to always keep moving forward.
Share This Episode
Share this episode with your family and friends.
About Inside The Champion's Mind
Inside the Champion's Mind is hosted by Laurence Tham. It is focused on the strategies and tactics to help you becoming the best you can be and become a WORLD CLASS leader in anything you do.
Inside The Champion's Mind Hosts
Recent Inside The Champion's Mind Episodes