Inside The Champion's Mind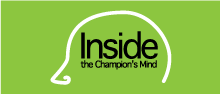 Click Below to Listen Now!
ITCM 14: Success & Longevity
What makes some people stay at the top of their chosen field for their entire lives, whereas others fall by the wayside early on, or post-career? We asked 5-time Olympian Andrew Gaze how to sustain success over the long haul. A father of four, Australia's greatest ever basketballer and a successful businessman, Gaze shares his wisdom that has allowed him to remain an Australian icon.
Share This Episode
Share this episode with your family and friends.
About Inside The Champion's Mind
Inside the Champion's Mind is hosted by Laurence Tham. It is focused on the strategies and tactics to help you becoming the best you can be and become a WORLD CLASS leader in anything you do.
Inside The Champion's Mind Hosts
Recent Inside The Champion's Mind Episodes